The Council of Advisors (COA) is a group of C-suite-level members leading The State Chamber's policy development process, working to ensure we have a strong legislative agenda each year. The COA is the place to be for Chamber members with a passion for policy development and a desire to effectuate positive change for Oklahoma's business community.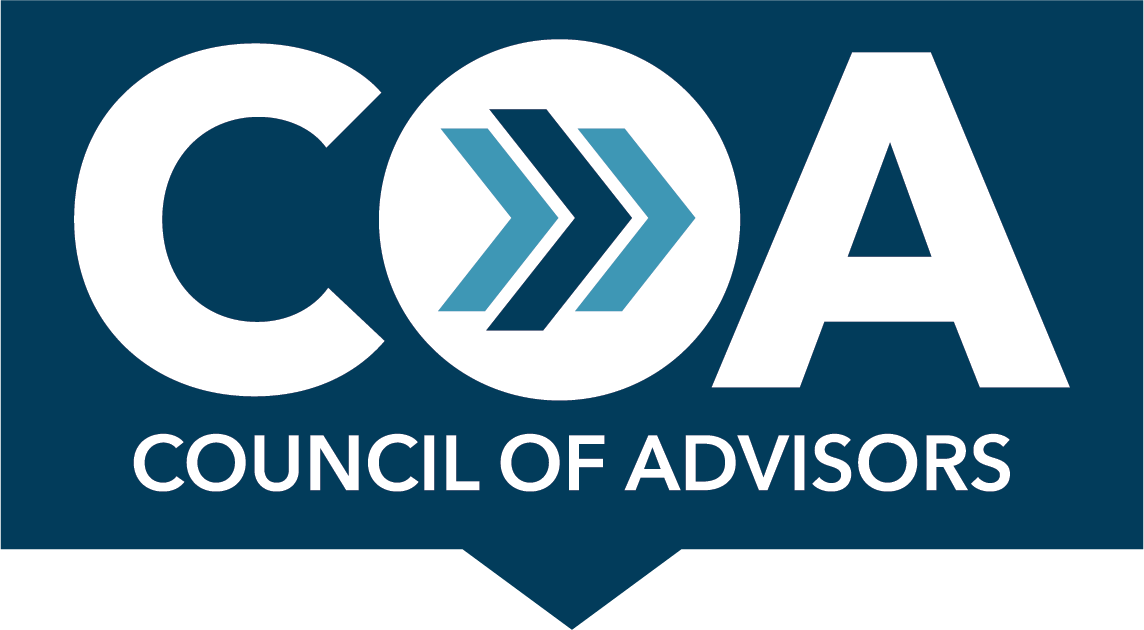 Derek Albro | Devon Energy Corporation
Katie Altshuler | Marathon Oil Company
James Ashford | Vision Care Direct
John Barrett | Citizen Potawatomi Nation
Chief Gary Batton | Choctaw Nation of Oklahoma
Chase Beasley | American Airlines, Inc.
Jennifer Bell | Citizen Potawatomi Nation
Scott Bilger | Phillips 66
Greg Boxer | Flywheel Energy
Darlene Brugnoli | Verizon
Don Bullard | Bullard and Associates
Seth Cavin | Spur Design LLC
Nico Ciccone | NextEra Energy Resources, LLC
Jason Clark | CompSource Mutual Insurance
Brett Coleman | Healthcare Highways, Inc.
Jill Daugherty | Chickasaw Nation Dept. of Commerce
Peter M. Dobelbower | Hobby Lobby Stores, Inc.
Gentner Drummond | Blue Sky Bank
Steve Edwards | The Bama Companies, Inc.
Scott Eisenhauer | P & K Equipment
Tim Elliott | Standley Systems LLC
Jennifer Ellis | Cosmetic Specialty Labs, Inc.
Jonathan Fowler | Fowler Holding Company -Autogroup
Mark W. Funke | Oklahoma Business Roundtable
Jim Gebhart | Mercy
Michael Graves | Garver, LLC
Jonathan Gray | Enel Green Power North America
Kevin Gross | Hillcrest HealthCare System
Brian Hackler | CORNERSTONE
Steve Hahn | AT&T
Kirkland Hall | Hall Capital, LLC
Bruce Heine | Magellan Midstream Partners
Mark Helm | Dolese Bros. Co.
Thomas Hill III | Kimray, Inc.
Dustin Hilliary | Hilliary Communications LLC
David Holden | Oklahoma State Medical Association
Hollye Hunt | OU Health
Tiffini Jackson | Public Service Company of Oklahoma
Ivan Jaime | Walmart, Inc.

Caroline Joiner | Amazon
Chris Kenney | American Fidelity Corporation
Bradley Krieger | Arvest Bank
Lucky Lamons | Ascension St. John Company
Brett Leopold | ITC Great Plains
Shea Loper | Ovintiv
Robert Manthei | XTO Energy/ExxonMobil
Greg Massey | First United Bank & Trust Co.
Eddie Miller | Bios Management Company
Ken Miller | OGE Energy Corp.
Chuck Mills | Mills Machine Company, Inc.
Johnny Montoya | WINDSTREAM
Chris Moore | Canoo Inc.
Rick Nagel | Acorn Growth Companies
Michael S. Neal | Tulsa Regional Chamber
David Neuhauser | CP&Y
Mark Nichols | Koch Industries
David Nimmo | Chickasaw Nation Industries
Richard Nix | McAfee & Taft A Professional
Todd Pauley | The Boeing Company
Kristin Peck | Cox Communications, Inc.
Timothy Pehrson | INTEGRIS Health
Craig Perry | Oklahoma Natural Gas
Sharina Perry | Utopia Plastix
JT Petherick | Blue Cross Blue Shield of Oklahoma
Stephanie Phipps | Mustang Fuel Corporation
Jerome Redmond | American Truck Training, Inc.
Pete Regan | EST, Inc.
Stephanie Regan | AAON, Inc.
Courtney Reid | CVS Health
Brett Robinson | Beer Distributors of Oklahoma
Larry Rooney | Manhattan Construction Group
Bill Schonacher  | IBC Bank
Jeff Starling | Lagoon Water Solutions LLC
Josiah Sutton | CommunityCare HMO, Inc.
John Taylor | Field Aerospace
Mike Teague | ONEOK, Inc.
Jack Todd | Trinity Industries, Inc.
Thor Underdahl | Allete Clean Energy
Courtney Warmington | Fuller Tubb Bickford Warmington & Panach, PLLC
Dana Weber |  WEBCO Industries, Inc.
Brian Woodard | Chesapeake Energy Corporation
Allen Wright | Hustings Group